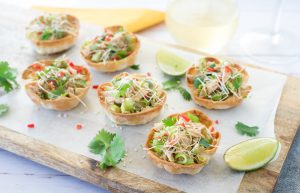 These fun won ton cups are the ideal finger food to start any party.

Prep time: 15 minutes
Cooking time: 10 minutes
Ingredients (serves 4)
12 won ton wrappers
3/4 cup Aussie Sprouts alfalfa sprouts
1/4 barbecued chicken, meat removed and shredded
1 stick celery, finely diced
1 spring onion, finely sliced
1 teaspoon finely diced red chilli
2 tablespoons finely chopped coriander
1 tablespoon salt reduced soy sauce
1 teaspoon sesame oil
1 teaspoon lime juice
1 tablespoon sesame seeds

Method:
Preheat oven to 200°C. Spray a 12 hole muffin tin lightly with spray oil.
Place one won ton wrapper into each muffin hole, pushing gently into the sides of the hole to form a cup shape.
Bake for 10-12 minutes until crisp, then remove from muffin holes and set aside to cool.
Meanwhile, combine the alfalfa sprouts in a mixing bowl with the shredded chicken, celery, spring onion, chili and coriander.
Whisk together the soy sauce, sesame oil and lime juice and pour over the chicken mixture. Stir to combine.
Fill each won ton cup with chicken mixture, top with sesame seeds and serve!
NUTRITION INFORMATION

Per Serve
Energy
569kJ (135kcal)
Protein
20.6g
Fat – total – saturated
4.4g0.9g
Carbohydrate – total – sugars
2.8g0.8g
Dietary fibre
1.0g
Sodium
396mg