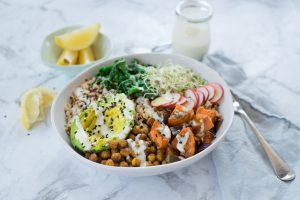 Prep time: 15 minutes
Cooking time: 15 minutes
Ingredients (serves 4)
2 small sweet potatoes, peeled and cut into chunks
1 tin chickpeas, rinsed and drained
1 red onion, cut into wedges
1 tbsp extra virgin olive oil
1 tbsp ground cumin
Pinch of chilli powder
1 bunch kale, ribs discarded and torn into small pieces
3 cups cooked brown rice or quinoa (or a combination of both)
1 punnet Aussie Sprouts alfalfa sprouts
4 radishes, finely sliced
2 avocados, halved and sliced
2 tbsp sesame seeds (white or black, or a mixture of both)
1 lemon, cut into wedges, to serve

Tahini Dressing
½ cup tahini
¼ tsp garlic powder
2 tbsp lemon juice
⅓ cup water
Pinch of salt
Method
Preheat oven to 200°C.
Spread sweet potato, chickpeas and red onion over a large oven tray. Drizzle with oil and toss to coat. Sprinkle with cumin and chilli powder and season with salt and pepper. Roast for 15 minutes or until golden brown and cooked through.
Meanwhile, heat a large frying pan over medium heat and sauté kale for 3-4 minutes until wilted.
To make tahini dressing, whisk all ingredients in a small bowl until smooth. NB: the mixture may seize initially, but keep stirring and it will loosen. Add a little more water if required.
Divide rice or quinoa between serving bowls, top with kale, sweet potato, chickpeas and onion, alfalfa, radish and avocados. Sprinkle with sesame seeds and drizzle over tahini dressing. Serve with lemon wedges.
NUTRITION INFORMATION

Per Serve
Energy
3622kJ (862kcal)
Protein
23.9g
Fat – total – saturated
48.4g7.8g
Carbohydrate – total – sugars
73.3g10.2g
Dietary fibre
19.7g
Sodium
383mg