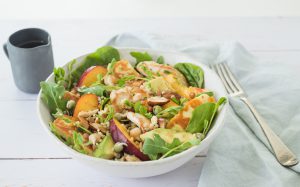 Prep time: 10 minutes
Cooking time: 15 minutes

Ingredients (serves 4)
1 tbsp extra virgin olive oil
200g skinless chicken breast
180g Haloumi, cut into 1cm thick slices
4 cups (100g) mixed lettuce leaves
1 punnet (100g) Aussie Sprouts pea shoots, halved and tails discarded
1 ½ cups cooked quinoa or brown rice
2 peaches, sliced
1 avocado, sliced
1 cup Aussie Sprouts crunchy combo
1/3 cup toasted almonds, roughly chopped

Honey Mustard Vinaigrette
¼ cup extra virgin olive oil
2 tbsp balsamic vinegar
2 tsp Dijon mustard
1 tbsp honey

Method:
Heat half the oil in a large frying pan over medium heat. Cook chicken for 4-5 minutes on each side until just cooked through. Set aside and allow to rest for 5 minutes, then slice thinly.
Heat remaining oil in frying pan and fry haloumi on each side until golden brown. Transfer to a plate lined with paper towel.
Toss lettuce leaves and quinoa together in serving bowl. Top with chicken, peaches, avocado, crunchy combo and almonds and toss through gently.
To make dressing, mix all ingredients together until well combined. Drizzle over salad and serve.
NUTRITION INFORMATION

Per Serve
Energy
2741kJ (653kcal)
Protein
28.8g
Fat – total – saturated
44.4g10.9g
Carbohydrate – total – sugars
31.6g16.6g
Dietary fibre
6.6g
Sodium
1400mg