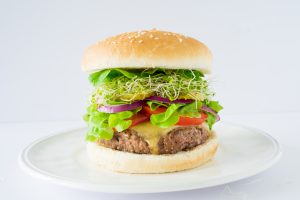 Prep time: 10 minutes
Cooking time: 10 minutes

Ingredients (serves 4)
500g beef mince
1 tbsp extra virgin olive oil
4 slices cheddar cheese
4 burger buns
6 oak lettuce leaves, roughly torn
2 tomatoes, thinly sliced
1 red onion, thinly sliced
1/3 cup sliced pickles
1 cup Aussie Sprouts alfalfa sprouts
2 tbsp tomato sauce

Method:
Form the mince into 4 even sized patties. Season patties liberally on each side with salt and pepper.
Heat oil in a large frying pan over medium-high heat. Cook until top of patty begins to darken in colour, then flip, top with cheese and cook for another 2-3 minutes.
Meanwhile, toast the burger buns lightly in a separate pan or under grill.
Top base of each burger bun with a beef patty, tomato, lettuce, onion, pickles and alfalfa.
Spread tomato sauce over inside of remaining half of bun, place on top of burger and serve.
NUTRITION INFORMATION

Per Serve
Energy
3074kJ (732kcal)
Protein
47.9g
Fat – total – saturated
28.1g11.5g
Carbohydrate – total – sugars
68.4g14.9g
Dietary fibre
7.1g
Sodium
966mg