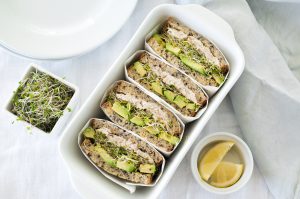 Prep time: 10 minutes
Cooking time: 0 minutes
Ingredients (serves 6):
1/2 barbequed chicken, skin removed and shredded
1/4 cup mayonnaise
1 large avocado, mashed or sliced
1 teaspoon lemon juice
12 sliced soy and linseed bread
1 1/2 cups alfalfa sprouts
1 1/2 cups broccoli sprouts (optional)

Method:
Combine chicken and mayonnaise in a bowl.
Drizzle lemon juice over avocado and season to taste.
Spread chicken mixture over 6 slices of bread.
Top with sprouts, then avocado and remaining bread slices.
Slice in half and serve.
NUTRITION INFORMATION

Per Serve
Energy
1989kJ (474kcal)
Protein
30.9g
Fat – total – saturated
24.6g4.1g
Carbohydrate – total – sugars
28.0g2.2g
Dietary fibre
9.3g
Sodium
468mg