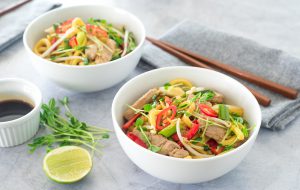 A quick, substantial and delicious meal for the whole family

Prep time: 15 minutes
Cooking time: 10 minutes
Ingredients (serves 3-4)
300g thick fresh egg noodles
2 tablespoons peanut or vegetable oil
1cm piece fresh ginger, grated
1 clove garlic, minced
3 spring onions (scallions), sliced into 2cm lengths
200g pork fillet, cut into strips
1 tablespoon shaoxing cooking wine or dry sherry
125 g Aussie Sprouts bean sprouts
75g Aussie Sprouts snow pea sprouts, cut in half and stalks discarded
50g Aussie Sprouts radish sprouts, cut in half and stalks discarded (optional)

Sauce:
1 1/2 tablespoons light soy sauce
1 1/2 tablespoons oyster sauce
1/2 teaspoon sugar

Method:
To make sauce, combine all ingredients in a small bowl.
Cook the noodles as per instructions on the pack. Drain and rinse with cold water. Set aside.
Heat oil in a wok over medium-high heat. Add ginger and garlic and cook for 1-2 minutes until softened.
Add the pork and spring onions and stir fry until pork is browned on each side.
Add the wine or sherry and stir-fry for 20 seconds.
Add the noodles and sauce and toss to combine.
Add the bean sprouts, snow pea sprouts and radish sprouts and toss to coat in sauce.
Divide between serving bowls and serve immediately.
NUTRITION INFORMATION

Per Serve
Energy
1828kJ (435kcal)
Protein
24.4g
Fat – total – saturated
11.3g2.2g
Carbohydrate – total – sugars
56.7g3.0g
Dietary fibre
3.2g
Sodium
917mg