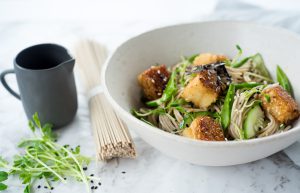 Prep time: 20 minutes
Cooking time: 5 minutes
Ingredients (serves 4)
Crispy Tofu
2 tablespoons salt reduced soy sauce
1 ½ tablespoons rice wine vinegar
2 tablespoons mirin
1 tablespoon sesame oil
1 tablespoon water
½ cup cornflour
2 tablespoons sesame seeds
300g firm silken tofu, cut into 3cm cubes
2 tablespoons sesame oil, extra


Noodles
270g (1 packet) soba noodles
½ punnet Aussie Sprouts pea shoots, halved and ends discarded
1 Lebanese cucumber, halved lengthwise and finely sliced
1 cup sugar snap peas, sliced diagonally lengthwise
1 tablespoon sesame seeds
1 nori sheet, finely sliced (optional)
Method
To make sauce, mix soy sauce, rice wine vinegar, mirin, sesame oil and water in a small jug.
Spread cornflour and sesame seeds over a large plate and season with salt and pepper. Gently toss tofu cubes in flour mixture until well coated.
Heat extra sesame oil in a large frying pan over medium heat. Fry tofu for 1-2 minutes on each side, turning carefully, until golden brown. Pour over 2 tablespoons of the sauce and cook for 30 seconds or until sauce thickens.
Boil soba noodles in a large saucepan of boiling water for 3 minutes or until just soft. Add pea shoots and leave for 30 seconds or until slightly wilted. Drain and rinse, then toss through cucumber and sugar snap peas.
Divide noodles between four bowls, top with tofu and pour over remaining sauce.
Sprinkle with sesame seeds and nori and serve.
NUTRITION INFORMATION

Per Serve
Energy
2264kJ (539kcal)
Protein
15.0g
Fat – total – saturated
21.6g3.1g
Carbohydrate – total – sugars
65.9g6.8g
Dietary fibre
7.8g
Sodium
936mg