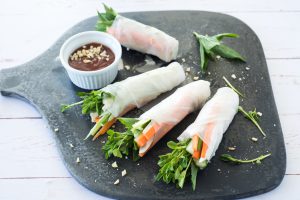 A light and tasty option ideal for picnics, lunch or pre-dinner entrée.

Prep time: 25 minutes
Cooking time: 0 minutes
Ingredients (makes 16)
1 roast chicken
16 x 16.5cm rice paper sheets
4 spring onions, sliced thinly lengthways
1 punnet (100g) pea shoots
1 bunch mint
2 Lebanese cucumbers, cut in half, then sliced thinly lengthways
2 carrots, peeled, cut in half, then sliced thinly lengthways

Dipping Sauce:
1 cup hoisin sauce
¼ cup plum sauce

Method:
Remove skin and meat from chicken, discard bones, and slice meat thinly.
Place one sheet of rice paper in large shallow bowl of warm water and soak for 30 seconds or until softened slightly. Lift sheet carefully from water, place on board and pat dry with paper towel.
Place some of the chicken, spring onion, pea shoots, mint, cucumber and carrot in the centre of the top half of the rice paper sheet.
Fold bottom half up, then fold sides over to enclose filling tightly, allowing pea shoots and mint to come slightly above the edge.
Repeat with remaining rice paper sheets and remaining ingredients.
Serve with dipping sauce.
NUTRITION INFORMATION

Per Serve (2 rolls)
Energy
1100kJ (262kcal)
Protein
26.5g
Fat – total – saturated
5.1g1.2g
Carbohydrate – total – sugars
24.8g19.8g
Dietary fibre
6.5g
Sodium
771mg