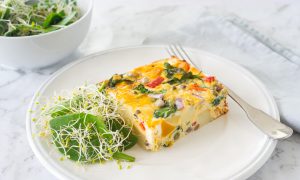 A light vegetarian option that is ideal for picnics, lunch or dinner.
Prep time: 20 minutes
Cooking time: 30 minutes
Ingredients (serves 6-8)
3 cups (500g) pumpkin, cut into 2cm cubes
1 potato, peeled and cut into 2cm cubes
1 small red onion, sliced thinly
1/2 punnet (200g) Aussie Sprouts Crunchy Combo
50g baby spinach leaves, coarsely chopped
150g feta cheese, crumbled
3/4 cup cheddar cheese, grated
12 eggs, lightly beaten
To serve:
1 punnet (125g) alfalfa sprouts
50g baby spinach leaves
Method:
Preheat oven to 200°C. Grease a deep 23cm square cake pan; line base and two opposite sides with baking paper.
Place pumpkin and potato in a large microwave-safe bowl. Cover and cook on HIGH for 8 minutes, stirring halfway through, until just tender.
Combine pumpkin, potato, onion and crunchy combo in large bowl. Add spinach, cheeses and egg and stir gently to combine. Transfer mixture into prepared pan.
Bake for 30 minutes or until firm. Allow to stand for 5 minutes before serving.
Serve with alfalfa and baby spinach.
NUTRITION INFORMATION

Per Serve
Energy
962kJ (229kcal)
Protein
17.7g
Fat – total – saturated
11.6g7.2g
Carbohydrate – total – sugars
11.0g5.6g
Dietary fibre
3.4g
Sodium
497mg