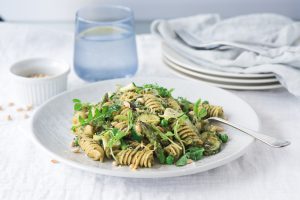 Prep time: 15 minutes
Cooking time: 10 minutes
Ingredients (serves 4)
350g spiral or penne pasta
1 bunch asparagus, cut into 3cm lengths (ends discarded)
2 zucchinis, 1 sliced and 1 sliced very thinly lengthways using a vegetable peeler
1 cup frozen peas

Pea Shoot Pesto
1 punnet Aussie Sprouts pea shoots, halved and tails discarded
1 cup basil leaves, packed
1 cup mint leaves, packed
1/4 cup toasted pine nuts
1/3 cup parmesan cheese
1 clove garlic
1/4 cup extra virgin olive oil
Pinch of salt
Squeeze of lemon juice

To serve
1/4 cup pine nuts
1 tbsp grated lemon rind
Small handful pea shoots, tails removed
Small handful rocket (optional)
1 tablespoon finely grated parmesan

Method
Cook pasta in a large saucepan of boiling water for 8 minutes or until al dente. Add asparagus, zucchini and peas and boil for a further 30 seconds to blanch. Drain.
To make pesto, place pea shoots, basil, mint, pine nuts, parmesan and garlic in a food processor and process until finely chopped.
With motor running, gradually add oil and process until pesto is smooth. Add salt and lemon juice and process to incorporate. Check seasoning and add a little more salt if required.
Add pesto to hot pasta and gently stir through.
Divide pasta between serving plates, top with pine nuts, lemon rind, pea shoots, rocket and parmesan and serve.
NUTRITION INFORMATION

Per Serve
Energy
2998kJ (714kcal)
Protein
24.4g
Fat – total – saturated
36.6g6.3g
Carbohydrate – total – sugars
67.4g4.9g
Dietary fibre
10.0g
Sodium
215mg