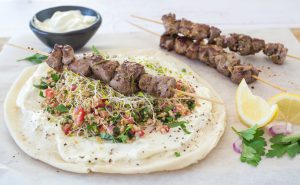 A light and tasty option ideal for picnics, lunch or dinner.

Prep time: 20 minutes (+1 hour soaking time)
Cooking time: 5 minutes

Ingredients (serves 4)
250g lamb fillets
4 kebab wraps
1 punnet (125g) salad or alfalfa sprouts
1 small tub natural yogurt

Marinade
2 tablespoons wholegrain mustard
2 tablespoons honey
1 tablespoon lemon juice
2 sprigs fresh rosemary

Tabouli
1 cup bulgur wheat
1/4 cup extra virgin olive oil
1/4 cup lemon juice
½ red onion, finely chopped
1 cup parsley, finely chopped
2 tomatoes, seeded and finely chopped

Method:
Place bulgar in a bowl, cover with water and soak for 1 hour or until soft.
Meanwhile, combine wholegrain mustard, honey, lemon juice and rosemary in a bowl. Add lamb, coat well, cover and refrigerate for 10 mins.
Cook marinated lamb fillets in oiled pan on high heat for 2-3 minutes or until browned and just cooked through. Slice into strips.
Drain bulgar well, then add lemon juice and olive oil and season with salt and pepper. Stir through onion, parsley and tomato.
Lay out kebab wraps, layer with yoghurt, tabouli, sprouts and lamb. Wrap up tightly and serve.
NUTRITION INFORMATION

Per Serve
Energy
2605kJ (620kcal)
Protein
25.6g
Fat – total – saturated
23.7g5.3g
Carbohydrate – total – sugars
70.3g22.2g
Dietary fibre
10.7g
Sodium
551mg