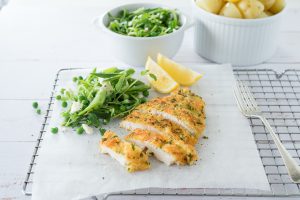 Prep time: 15 minutes
Cooking time: 10 minutes
Ingredients (serves 4)
1½ cups panko breadcrumbs
Finely grated rind of 1 lemon
¼ cup finely chopped flat leaf parsley
2 eggs, lightly beaten
½ cup plain flour
4 chicken breast schnitzels (uncrumbed)
2 tbsp extra virgin olive oil
1 lemon, cut into wedges, to serve

Salad
150g sugar snap peas, tops and tails removed and sliced diagonally lengthwise
½ punnet pea shoots, halved and tails discarded
½ cup frozen peas, defrosted in boiling water
⅓ cup mint leaves
50g feta, crumbled
1 tbsp extra virgin olive oil
Juice of ½ lemon
1 tsp honey
1 tsp red wine vinegar

Method:
In a shallow bowl, mix together breadcrumbs, lemon rind and parsley. Season with salt and pepper.
Place eggs in a separate bowl and flour into a third bowl.
Coat each chicken breast in flour, then dip in egg and finally, coat in breadcrumb mixture.
Heat oil in a large frying pan over medium-high heat. Cook schnitzels for 4-5 minutes on each side or until golden brown (you may need to do this in batches).
Meanwhile, to make the salad, toss together sugar snap peas, pea shoots, peas, mint leaves and feta.
In a small bowl, combine olive oil, lemon juice, honey and vinegar. Pour over salad and toss gently.
Serve schnitzels with a side of salad and lemon wedges.
NUTRITION INFORMATION

Per Serve
Energy
2146kJ (511kcal)
Protein
23.0g
Fat – total – saturated
21.5g5.2g
Carbohydrate – total – sugars
54.3g6.0g
Dietary fibre
5.1g
Sodium
412mg