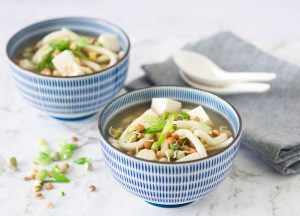 A fresh, healthy soup that is quick and easy to make!

Prep time: 10 minutes
Cooking time: 0 minutes
Ingredients (serves 4)
1/4 cup yellow or white miso paste
300g fresh udon noodles
300g firm silken tofu
1 pack Aussie Sprouts Crunchy Combo
1 spring onion, sliced, to serve
Method:
Bring 1.25L water to a boil in a saucepan over medium low heat. Add the miso paste and stir until dissolved.
Rinse the noodles under warm water to separate.
Drain the tofu on paper towel then cut into cubes approximately 1.5cm in size.
Add half the Parilla Crunchy Combo sprouts to the soup.
Divide the noodles between warm serving bowls. Stir the soup and pour over the noodles.
Top with tofu cubes and the remaining sprouts.
Garnish with sliced spring onion and serve immediately.
NUTRITION INFORMATION

Per Serve
Energy
1959kJ (466kcal)
Protein
16.5g
Fat – total – saturated
18.9g7.5g
Carbohydrate – total – sugars
52.1g2.1g
Dietary fibre
9.8g
Sodium
609mg