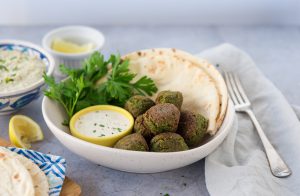 Prep time: 10 minutes (plus 20 minutes resting time)
Cooking time: 10 minutes
Ingredients (serves 4)
2 punnets Aussie Sprouts Crunchy Combo
1 cup flat leaf parsley
1 cup coriander
2 cloves garlic
3 tsp ground cumin
1 tsp ground coriander
1 tsp salt
1/3 cup chickpea or plain flour
1 tsp baking powder
1/3 cup water
1/3 cup vegetable oil

Tahini Dressing
½ cup tahini
¼ tsp garlic powder
2 tbsp lemon juice
1/3 cup water
Pinch of salt
Method
Place Crunchy Combo, parsley, coriander and garlic in a food processor and process until very finely chopped. Add spices, salt, flour, baking powder and water and process until combined.
Shape mixture into balls a little smaller than a golf ball and place on a large greased tray. Refrigerate for 20 minutes to rest.
To make dressing, whisk all ingredients in a small bowl until smooth. (NB: the mixture may seize up initially, but keep stirring and it will loosen). Add a little more water if required.
Heat oil in a large frying pan over medium heat. Fry falafels in batches, turning gently until golden brown on all sides. Drain on paper towel.
Serve with tahini dressing and pita bread, if desired.
NUTRITION INFORMATION

Per Serve
Energy
2260kJ (538kcal)
Protein
11.2g
Fat – total – saturated
42.5g5.6g
Carbohydrate – total – sugars
25.4g2.8g
Dietary fibre
7.7g
Sodium
616mg