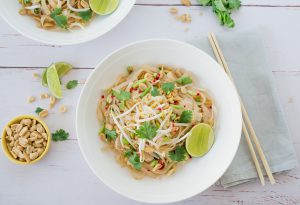 Prep time: 15 minutes
Cooking time: 10 minutes
Ingredients (serves 4)
200g rice stick noodles
2 tbsp tamarind paste
3 tbsp brown sugar
2 tbsp fish sauce
2 tbsp sesame oil
300g chicken breast, thinly sliced
1 clove garlic, minced
3 spring onions, cut into 2cm slices
2 eggs, lightly beaten
¼ cup roasted peanuts
1 large handful bean sprouts

To serve
¼ cup roasted peanuts, extra
Handful coriander leaves
1 lime, cut into wedges

Method:
Place noodles in a large bowl and cover with boiling water. Soak for 15 minutes or until tender, but not too soft. Drain well with cold water.
In a small bowl, combine tamarind paste, brown sugar and fish sauce and stir until sugar has dissolved
Heat half the sesame oil in a wok over medium heat. Stir-fry chicken for 3-4 minutes or until cooked through. Set aside.
Add remaining sesame oil to the pan and cook garlic and spring onions for 2-3 minutes or until soft. Add eggs and cook, stirring occasionally, until almost cooked through.
Add rice noodles and chicken, then stir through tamarind mixture. Cook, stirring for 2-3 minutes or until noodles have absorbed liquid.
Stir through peanuts and bean sprouts.
Serve immediately sprinkled with extra peanuts and coriander, with lime wedges on the side.
NUTRITION INFORMATION

Per Serve
Energy
2167kJ (516kcal)
Protein
27.6g
Fat – total – saturated
19.4g3.2g
Carbohydrate – total – sugars
57.2g19.1g
Dietary fibre
3.6g
Sodium
1082mg