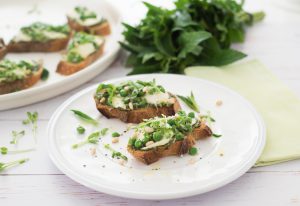 Prep time: 15 minutes
Cooking time: 0 minutes
Ingredients (serves 4)
1 baguette, sliced into 2cm thick diagonal slices
1 fresh mozzarella or burrata ball, sliced
½ cup frozen peas

Pea Shoot Pesto
1 punnet pea shoots
1 cup basil leaves, packed
1 cup mint leaves, packed
1/4 cup toasted pine nuts
1/3 cup parmesan cheese
1 clove garlic
1/4 cup extra virgin olive oil
Pinch of salt
Squeeze of lemon juice

To serve
1/4 cup pine nuts
1/3 cup basil leaves
1 tablespoon finely grated parmesan
Small handful pea shoots, tails removed

Method:
To make pesto, place pea shoots, basil, mint, pine nuts, parmesan and garlic in a food processor and process until finely chopped.
With motor running, gradually add oil and process until pesto is smooth. Add salt and lemon juice and process to incorporate. Check seasoning.
Defrost peas in 1 cup boiling water. Drain and mash lightly.
Toast baguette slices. Spread each slice with pesto, then top with 1-2 slices mozzarella. Spoon over peas and a little more pesto, then sprinkle with pine nuts, basil leaves, and grated parmesan.
NUTRITION INFORMATION

Per Serve
Energy
2933kJ (698kcal)
Protein
34.7g
Fat – total – saturated
38.6g6.7g
Carbohydrate – total – sugars
45.6g5.8g
Dietary fibre
10.3g
Sodium
613mg