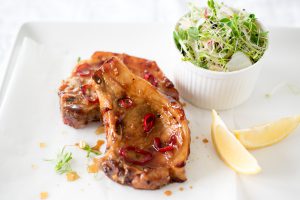 Prep time: 15 minutes
Cooking time: 5 minutes
Ingredients (serves 4)
½ cup honey
2 tbsp lemon juice
2 tsp soy sauce
1cm piece ginger, finely grated
2 cloves garlic, minced
1 red chilli, finely sliced
4 pork chops
1 tbsp extra virgin olive oil

Slaw
½ cup alfalfa sprouts
½ cup pea shoots, halved and tails discarded
¼ cup onion sprouts (optional)
1 small fennel bulb, very finely sliced
3 radishes, very finely sliced
Juice of half a lemon
1 tbsp extra virgin olive oil

Method:
Mix together the honey, lemon juice and soy sauce in a small bowl, then add ginger, garlic and chilli and stir to combine.
Place pork chops on a tray and pour over half the honey mixture, turning to coat.
Heat oil in a large frying pan over medium-high heat. Cook chops for 2-3 minutes on each side until golden and cooked through, basting with remaining sauce as they cook.
To make slaw, toss together alfalfa, pea shoots, onion sprouts, fennel and radish. Drizzle with lemon and olive oil, season with salt and pepper and serve alongside pork chops.
NUTRITION INFORMATION

Per Serve
Energy
2184kJ (520kcal)
Protein
39.6g
Fat – total – saturated
22.9g6.5g
Carbohydrate – total – sugars
39.5g39.5g
Dietary fibre
2.1g
Sodium
353mg