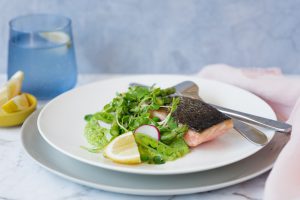 Prep time: 15 minutes
Cooking time: 10 minutes
Ingredients (serves 4)
1 tbsp extra virgin olive oil
4 salmon fillets, skin on
2 cups frozen peas
1 tbsp butter
1 clove garlic, minced
½ onion, finely diced
1 tsp finely grated lemon rind
¼ cup crème fraiche
Pinch of salt
1 lemon, cut into wedges, to serve

Pea Shoot Salad
1 bunch asparagus, woody end removed and halved
1 cup sugar snap peas, tops and tails removed and halved diagonally
½ punnet pea shoots, halved and tails discarded
1 small fennel bulb, very finely sliced
3 radishes, very finely sliced
¼ cup mint leaves
Method:
Heat oil in a large frying pan over medium-high heat. Cook salmon for 2-3 minutes each side until browned but still slightly translucent in the centre.
To make the pea puree, cover peas with boiling water and boil for 2-3 minutes or until they float to the top. Drain and set aside.
Melt butter in a saucepan over medium heat and cook garlic and onion for 3-4 minutes or until soft. Add peas to pan along with lemon rind, crème fraiche and salt. Stir to combine, then process in food processor until smooth. Check seasoning.
To make salad, blanch sugar snap peas and asparagus in boiling water. Rinse with cold water. Combine with all other ingredients and toss gently.
To serve, divide pea puree between serving plates, using the back of a spoon to spread it over the centre of the plate. Lay salmon fillets over pea puree, skin side up, then top with salad and serve with lemon wedges.
NUTRITION INFORMATION

Per Serve
Energy
2187kJ (521kcal)
Protein
38.5g
Fat – total – saturated
34.9g11.1g
Carbohydrate – total – sugars
10.7g7.3g
Dietary fibre
7.1g
Sodium
166mg