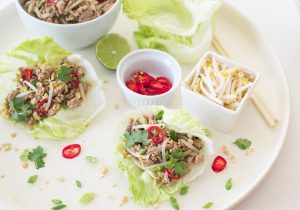 Prep time: 10 minutes
Cooking time: 5 minutes
Ingredients (serves 4)
1 tbsp sesame or peanut oil
500g lean pork mince
1 tbsp soy sauce
2 tbsp oyster sauce
Small tin water chestnuts, diced
3 spring onions, finely sliced
2 large handfuls bean sprouts
1 long red chilli, finely sliced
8 medium sized lettuce leaves
1/3 cup roasted peanuts, crushed
1/3 cup coriander leaves
Method:
Heat oil in a large frying pan or wok over medium heat. Add mince and cook for 4-5 minutes or until browned, breaking it up as it cooks.
Stir through soy sauce and oyster sauce.
Add water chestnuts, spring onions, bean sprouts and half the chilli and toss through.
Place lettuce leaves onto serving plates. Spoon pork mixture into centre, top with peanuts, coriander and remaining chilli and serve.
NUTRITION INFORMATION

Per Serve
Energy
1519kJ (362kcal)
Protein
29.3g
Fat – total – saturated
23.8g6.7g
Carbohydrate – total – sugars
7.1g4.7g
Dietary fibre
2.4g
Sodium
892mg